Whether you call them window coverings, window treatments or window decor, enhancing the focal point in your room doesn't have to be limited to the traditional styles of the past. There are a variety of unique window decoration ideas you'll want to know to improve a room's aesthetics, increase privacy or energy efficiency, or bring in natural light.
Before you decide on the best design elements to use for your glass panes, it's important to figure out how the room will be used, whether you need to focus on appearance or function, and how it will match your home's current decor. Formal or complicated designs will be more costly than casual styles.
Here are some interesting new window decoration ideas and some classic ones to help you decide which will work best for you:
Shades, Blinds, Curtains and Draperies
While shades, blinds, curtains and draperies have always been favorite window treatments, new materials, technologies and styles make these common window decoration ideas fresh again.
Shades

Cellular or honeycomb shades create a modern look while their unique design diffuses light, provides exceptional privacy and excellent insulation for increased energy efficiency. Layers of fabric are woven together to create honeycomb-shaped cells. They come in cordless and top-down/bottom-up styles for safety and light/privacy control. Single-, double- and triple-cell designs all offer some level of functionality, with the triple-cell design providing the most options. Fabric colours and patterns are available for all types of decor.
Roman shades blend past with present styles. They provide a tailored and sleek appearance offered in fine drapery fabrics, vibrant colours and patterns. They gather into accordion pleats and allow for a high level of privacy. A great new feature is the ability to operate them through a remote control or your smartphone. This gives great control at the push of a button.
The classic roller shade is still a viable option. It's simplistic style and affordable price makes it a perfect addition behind draperies for enhanced privacy and aesthetic appeal. Roller shades come in light-filtering, room-darkening and design options.
Woven shades made from organic materials like bamboo and matchstick are very popular. Diffused light filters in while still providing some level of privacy. Their natural design works in all types of environments.
Blinds
Traditional window blinds are still a popular choice among homeowners. Venetian and vertical blinds are versatile and easy to use. They allow great control for height and graduated light levels. Many manufacturers offer integral blinds between the panes of glass for a clean, sleek appearance. Multiple colours are offered in both aluminum and vinyl materials. These are simple to use, have no cords so are safe for children and pets, and generally last the life of the window.
Curtains
Light-weight curtains are used to create an elegant look more than privacy. They work well on bay or bow windows or as cafe curtains with a valance for a decorative kitchen window treatment.
Draperies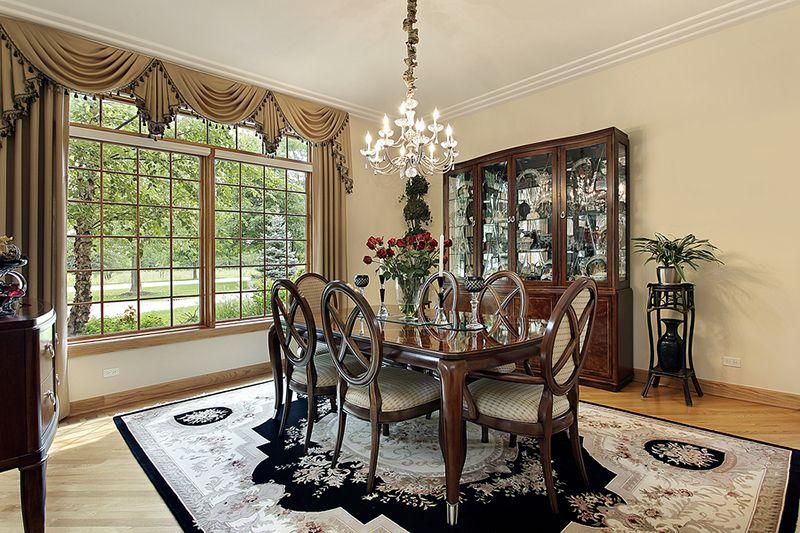 For a more dramatic look, draperies can be hung from ceiling to floor. Curtain rods can be placed two inches from the ceiling or bottom of the crown moulding and an inch onto the floor. This will make the room and windows look taller. Extend the curtain rod four inches beyond the window casing to give the window a wider appearance. Fashionable, luxury fabrics—silks, damasks, fur, velvets, suede and leather—with lavish embellishments—crystal, beads, and tassels—are trending now as homeowners can create a focal point and uniquely, original themed space.
Screens and Panels
With a hint of the Orient or Europe, window screens and panels are standing out in today's new window fashions. Panel-track systems made from woven fabric or wood create streamlined treatments that blend with contemporary decor. They come in geometric, latticework, arabesque and other stylish patterns to provide shade, privacy and beautiful shadows.
Green Design
"Performance fabrics" have gone mainstream and green for window covering fabrics. Consumers are demanding more from manufacturers to provide:
Allergy-resistant fabrics with anti-microbial and anti-fungal characteristics woven into the yarn.
Stain-, mildew- and mold-resistant fabrics are also helpful for allergy sufferers.
Environmentally-safe, non-toxic fabric dyes.
Energy-efficient heat- and cold-repellant window panels.
Film, Glass, Frosted Glass or Grills
Decorative film is an exciting new window decor option. It comes in a multitude of specialty types with everything from stained glass and frosted film to titanium heat control and artscape etched glass. Window film helps block UV rays for a healthier environment and less furniture fading. Adhesive film provides a temporary decorative touch that can be removed easily.
Decorative stained or frosted glass is a permanent option for those looking for complete privacy without total darkness.
Window grills/grids have been used for years but have now evolved into designs that complement both the interior and exterior of the home. Interior grills are installed between the glass panes to divide a window into smaller decoration sections. There is no maintenance, don't accumulate dust, and stay in place. They're available in Colonial, Prairie, Ladder and Double Ladder designs and provide great curb appeal.
Bead Curtains
For a fun, light-hearted design, consider adding bead curtains on the inside of clear glass windows. While they won't provide any privacy, the large variety of shapes, sizes and materials will fill your room with a whimsical flair.
Exterior Window Decor
There's no need to only look to the inside for decorating your windows. Outside enhancements will create curb appeal and provide an attractive addition to your front elevation.
Exterior Shutters
This common staple to a Colonial-style home is still being used to add aesthetic appeal to many different home designs. Vinyl shutters come in many prefinished colours and designs that eliminates the need for painting while complementing your home's exterior.
Try a unique twist by reusing exterior shutters as an interior window treatment. Select a style that fits inside the window frame (like hurricane shutters) and they'll be a perfect fit inside too.
Window Planters
Don't you just love the quaint look of window planters or boxes outside a country cottage? You can have a similar look by installing window boxes below the sill. Add some flowering annuals or
paint the box a bright hue to help add a beautiful splash of colour to the front of your home.
Window Awnings
While not as popular as they once were, window awnings can look pretty while helping block the hot summer sunshine to keep your home cool. Many styles and colours are available to make your home pretty as a picture.
Are You Ready for Replacement Windows?
No matter how much decoration you add to old, worn-out windows, you'll never be able to camouflage them. So, before you decide which window decor will be the best, make sure you have great looking, properly functioning windows.
Replace your present windows with new, energy-efficient vinyl windows by Ecoline Windows. They'll make you home look amazing and save on your energy bills. Call for a free, no-obligation quote today.