If you are in the market for window replacement in Winnipeg, you're probably wondering what are the specific things you should know in order to have the best windows and doors installed in your home.
What makes Winnipeg different from other cities when it comes to window replacement? What is the same as in other cities in Canada?
Many customers take a "window is a window is a window" mentality when they are shopping for new windows. The same people usually end up disappointed with something once the job is done. All because they didn't take a little bit of time to do some basic research.
So without any further delay, here are the five things you should know before getting replacement windows in Winnipeg:
One unique financing option for windows in Winnipeg is the Manitoba Hydro Home Energy Efficiency Loan Program. Here's how it works:
Borrow up to $7,500 per residence.
The maximum term is 5 years for all energy efficiency upgrades.
Annual interest rate is fixed at 4.8 per cent (O.A.C.) for the first 5 years.
Monthly instalments will be included on your energy bill.
Applicant must be a Manitoba Hydro customer and the owner of the home in which energy improvements are to take place.
To apply for the Home Energy Efficiency Loan, speak with your contractor or retailer. Your contractor or retailer will work with you to determine if your project is eligible for financing and will assist you with completing the loan application.
Note that as of this year in order to qualify for Manitoba Hydro, your window order must meet energy efficiency requirements for Zone 3 – the coldest zone in Canada. Winnipeg and Manitoba are technically located in climate Zone 2, a warmer zone that requires less efficient windows.
How do you know that you're getting the best windows for your home? In Canada, North America, and really all around the Western World, qualified windows and doors are tested and rated by an independent, accredited agency. Most often fenestration products in North America are tested and rated by ENERGY STAR. ENERGY STAR also tests home appliances and electronics for efficiency. Chances are, you already own several ENERGY STAR rated products in your home, whether it be your stove, fridge, furnace, or TV set.
Remember, most operable windows can be classified as sliding or crank. Casement windows that crank out are more efficient than sliding and hung windows.
Replacement windows qualify for ENERGY STAR®  based on their U-value (the measure of how well the windows resist heat loss. The lower the U-Factor, the more efficient the window) and their Energy Rating; in Winnipeg, windows should achieve A, B, and C climate zone rating.
You can see the list of all Energy Star rated products in Canada on this site.
Egress windows come into play to make sure that your windows meet your province's Fire Code standards. These standards are very similar across the country and require that every bedroom has an emergency exit. When replacing basement windows in the hopes of outfitting the space as a bedroom in the future, you would be well served to discuss it with the product consultant to make sure that the windows meet fire code. 
Window styles that qualify as Egress Windows
4. Double and Triple Pane Glass
Glass panes are the main elements of any window, therefore, it is most important for them to be of the highest quality. Harsh Manitoba climate requires a minimum of 2 panes for adequate thermo-insulation. We, at Ecoline Windows highly recommend 3-pane units, especially beneficial for areas with prolonged winter where temperatures remain lower for longer.
Because of how PVC windows are manufactured, it is possible to add additional upgrades to your windows to make them more efficient. Additional Low-E coatings, gas-fills, and engineered thermal insulation foam in the chamber of the window can make a good vinyl window perform even better.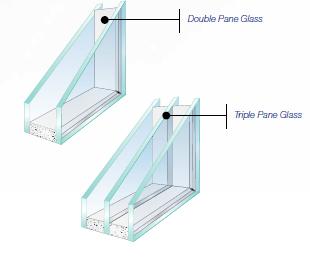 5. Home Construction in Winnipeg
Winnipeg is one of the oldest cities in Canada and has many homes that were built in the 50's, 60's and 70's. Based on our experience during the installation process, often times a lot of unforeseen surprises may arise that can complicate the installation process. We highly recommend hiring a knowledgeable window contractor that has many windows and door installations under his belt specifically in Winnipeg and surrounding areas. You can pick the best quality windows and spend lots of money, but your home can still allow drafts and leaks and lose heat if they are not installed correctly.
Check out these window replacement articles:
Find out how we price our products and services
See how the window replacement process works
Learn about our window warranty