Window shopping used to be a special family activity. Holidays memories were made with children peering through windows of city storefront displays and putting together their "wish lists" with all their favourite toys.
Today's window shopping for adults can be just as exciting and overwhelming. With the many choices available for replacement windows — energy efficiencies, high-tech features, styles, frame materials, curb appeal and pricing—it's more important than ever to take some extra time when deciding what you want or need for your home.
Read next:
Find the Problem Areas
If you've got noticeable problems like rotting or broken windows, you may be anxious to rush into a window replacement project. If there's no obvious concerns but you suspect you have some major energy-loss areas, you should complete a home energy audit.
Contact Efficiency Alberta, Manitoba Hydro, or SaskPower to obtain a full assessment of your energy consumption and determine if replacement windows are in order.
Match Architectural Styles
Curb appeal is an important element in today's home improvement market. When selecting replacement windows, you'll obtain the biggest return on investment if you match the window type with the architectural style of your home. These are the most common pairings:
Ranch—single-story construction featuring an asymmetrical design, clean lines and open floor plan. Most ranch-style homes work well with wide picture windows, large double-hung or horizontally mulled casements, or sliding windows.
Contemporary—features an open, flexible floor plan with unusual angles and multi-level rooflines. The clean lines and minimalistic style generally include fixed, casement, awning or sliding windows.
Craftsman—a popular throwback style has an open floor plan, exposed beams, gabled roof and natural colours. White double-hung windows are perfect for this architectural style.
Traditional—common throughout Canada and the United States, floor plans combine many other styles. Similarities include simple rooflines, brick, stone accents, front-facing gables and covered porches. Both double-hung and casement windows can be used to complement this design.
Farmhouse and Modern—simple flat or low-slope roof, large porch and utilitarian design. Use tall, narrow double-hung, casement, sliding or picture windows to match this no-frills decor.
Colonial—this classic design has been popular since the 1600s. They're generally rectangular shaped, include a pitched roof and strong symmetry. Shuttered double-hung windows work best with this style home.
Victorian—this ornate model can be challenging due to its asymmetrical design, extensive porches, high-reaching towers and rounded shingles. Tall, narrow double-hung, bow, bay or customized arch-top windows balance this complex style.
Tudor—this vintage look incorporates stucco and exposed wood trim, steep-pitched roof and one or more gables. Casement and bay replacement windows are best suited for this architectural element.
Green—while not technically an architectural style, many homeowners are interested in energy-saving attributes of green building. Regardless of style, most replacement windows should have Energy Star® certification. Double- or triple-pane, gas-filled windows with energy-efficient glazing are the most green-friendly choices.
Window Styles
Now that you're familiar with the windows recommended for your architectural elevation, it's important to learn the terminology for each window style:
Casement/Awning Windows—a popular choice for many designs, these windows are hinged on one side and installed vertically (casement) or horizontally (awning) dependent on the application. They offer excellent ventilation and unobstructed views. They provide a strong air-tight seal for maximum efficiency.
Single- or Double-Hung Windows—a traditional style for both older and modern home styles, either one or both sash slide vertically. Full screens are often used and the windows can be opened at the same time for ventilation in all weather conditions. Sash tilt in for easy cleaning.
Picture Windows—designed to let in lots of light, these fixed windows come in many shapes and sizes. They're often paired with an operable double-hung or casement windows. With a large glass area, it's important to include energy-efficient glass and gas-filled options.
Bay/Bow Windows—both styles cantilever in curves or angles toward the exterior of the home which provides additional floor space inside. They combine fixed and operable windows to bring in lots of natural light and air flow.
Custom Windows—these come in all types of shapes and sizes and are usually inoperable. They can be used to enhance the front of the home for great curb appeal or bring in more light in usual spaces.
Window Frames
While wood frames have been used for centuries, new technologies and materials are now competing for efficiency and durability. Each type comes with advantages and disadvantages, but all can offer some kind of value as replacement windows.
Wood—the "standard" for many years, wood is not prone to heat or cold transfer so is very efficient. It's easy to match interior and exterior décor with paint or stain. However, wood is susceptible to decay and insect damage, so you'll need to keep up on maintenance.
Wood-clad—wood covered with vinyl, aluminum or fiberglass offers the best of both worlds. It provides a low-maintenance exterior plus an insulating interior. Water infiltration can be a problem at seams so make sure to keep these areas caulked.
Vinyl—this is fast becoming the most popular frame material due to its budget-conscious pricing and durability. Combined with insulated glass and air-tight construction, vinyl windows offer excellent energy efficiency. New colours are being added regularly, but this material doesn't complement all architectural styles.
Aluminum—the main advantage of aluminum is its strength and is a popular choice in storm-prone areas. It doesn't provide the best heat transfer performance, but it works very well in rainy or humid climates.
Aluminum-clad with Vinyl Inside—this new innovation combines the protection, durability and sleek appearance of aluminum on the outside with a maintenance-free vinyl on the inside. To further enhance the beauty of this selection, it's designed with a pleasing set-back mullion and comes in an extensive colour palette to match your décor.
Fiberglass—made from a mixture of glass fibers and polyester resins, they are very energy efficient. They have a low thermal conductivity, are extremely strong and durable, plus won't twist or warp. Their high-end pricing is often a deterrent to wide-spread acceptance.
Glass Choices
Energy-Star certification is a term most homeowners are familiar with regarding the energy efficiency of their appliances. Window glass is also part of a voluntary program through the National Fenestration Rating Council (NFRC) that measures U-value (resistance to heat loss) and Solar heat gain coefficient (SHGC) (how much heat enters the home through the glass.) Look for lower numbers for the best performance.
You'll easily notice lower utility bills and a more comfortable environment after you install your new replacement windows, especially if you include some of these features:
LoE Glass Coating—the low thermal emissivity coating is a thin layer that reduces the transfer of heat through the window and improves its insulating properties. It also allows the sun's heat inside while blocking damaging UV rays.
Double- or Triple-Pane Windows—to provide the best thermo-insulation properties and keep your home comfortable even in the harshest winter conditions, add a minimum of 2 panes or as much as 3-panes of glass.
Argon or Krypon Gas—is injected between the layers of the sealed glass unit to provide even more insulation. With triple-pane windows, you'll benefit from an additional layer of glass, better quality frames, stronger hardware, and an overall better performing product.
EnerEDGE IG Spacer — low thermal conductivity spacer that is generally placed between the layers of glass to separate and seal the unit. This will help keep your home warmer during cold months. Ecoline uses a new improved product, "EnerEDGE Insulating Glass (IG) Spacer" that offers total building envelope protection with sealing solutions for every connection from the foundation to the roof.
Privacy Glass—add an interesting aesthetic to your windows while adding a level of privacy. Gray or bronze tints, decorative patterns, subtle accents and frosting are available.
Divider Grills—decorative dividers installed between the glass will complement your architectural design and give an authentic look of actual divided-light windows.
Read next:
Installation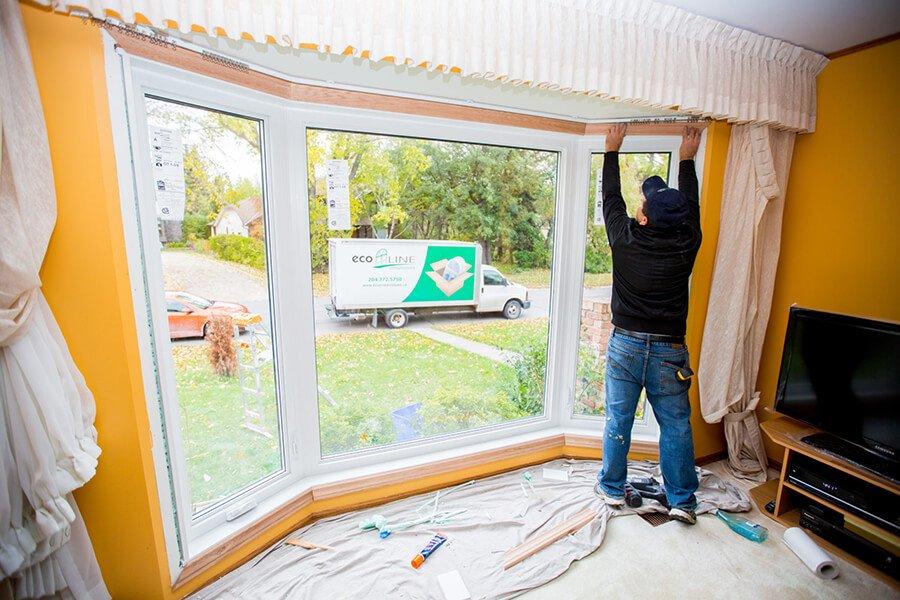 Whether you install your replacement windows yourself or use a professional window contractor like Ecoline Windows, you have two different methods to choose from:
Retrofit Installation—existing frames are used to preserve the original look. This method is typically used when the structural integrity of the frame is intact. This is the least expensive of the two options but it may not eliminate all the problems with the windows.
Full-frame Installation—this is a complete window replacement and will include new hardware, casings, jamb extensions and brickmoulds. While more expensive than the retrofit process, this will ensure there is no decay or moisture issues. In addition, the replacement material is made from vinyl instead of wood for increased durability.
With the wide variety of window, frame, glazing and installation options available today, window shopping for replacement windows can be just as much fun as the "old days."
Protect your investment. For a complete start-to-finish project that will help improve your energy efficiency, reduce your utility bills, and increase your comfort level, contact Ecoline Windows to arrange for an onsite evaluation.
Read next: