In our blogs, we often discuss the variety of options available to get the most out of your window replacement. A big advantage of vinyl windows over other materials, is that these windows can be outfitted with a plethora of features to improve their performance, and in turn make your home even more comfortable year-round.

In previous posts we looked at Super Spacer®, gas fills, and low-emissivity coatings. All these options can work independently, or in a combination to create top performance energy efficient windows.
But what if you're not looking to invest in all the additional features available, but want something that definitely makes your home more comfortable? There are ways to maximize the efficiency of your units with just some of the available options. One such option is the laminated glass that can be added into your units. Although it can only be used in double-pane windows, laminated glass effectively uses three glazings.
If you get no other upgrades on your windows, consider laminated as an option. As its name suggests, this feature is great because of the plethora of benefits that laminated glass offers.
Security

Mostly utilized in the commercial market, laminated glass has found good application in the home replacement industry. Placed on the inner frame of the pane window, the glass offers the highest level of protection. laminated glass is built ten times stronger than regular panes, making it very difficult to break. Even after breakage the glass stays intact making it impossible to use the window as an entryway.
Sound

Another great benefit of this option is the additional noise reduction the pane creates. We've discussed options for reducing noise in previous posts. Laminated glass in combination with EnerEDGE IG Spacer technology creates the best noise performance windows on the market. Tests show that this combination can reduce the audible noise levels by almost a third.
Performance
Another big advantage of laminated glass is its superior UV protection. The durable laminated glass provides ninety-eight percent UV protection compared to seventy-six percent protection of regular triple pane LoE units. The table below demonstrates how units with laminated compare to other options.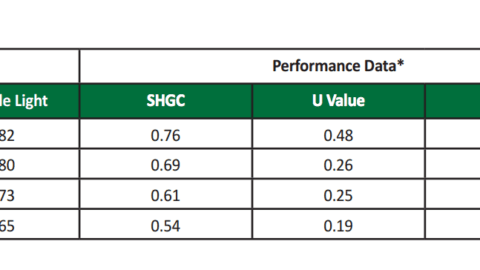 You can see ratings for all ENERGY STAR® rated windows in Canada, on this Natural Resources website.
Laminated Glass is a perfect addition to double pane windows. Because the glass creates better performance across different criteria, this is a great option to consider if you're looking to get the most value from your investment. The added security of laminated will prevent break-ins into your home through the vinyl windows.
Check out these window replacement articles: