CleanBC Income Rebates for Windows and Doors – Everything You Should Know to Claim The Best Offer
The CleanBC Better Homes Income Qualified Program is a great chance to make your home more efficient and comfortable while recovering some of the cost. Find out who is eligible for a rebate and how to participate in the program.
1. Get a FREE QUOTE and we will bring SAMPLES to your home.
2. We will call you back during WORKING DAY
3. We guarantee Direct Price and Warranty from Manufacturer
or
Considering new energy-efficient windows and doors for your home? The good news is that not only do they improve your energy rating and the value of your home, but they also can cost you less than you thought.
The Province of British Columbia has launched a new low-income loan rebate program – the CleanBC Better Homes Income Qualified Program. Thus, power upgrades have become more affordable for everyone. If household income is within a certain range, British Columbians can get a low-income household rebate for improvements and retrofits to help make homes more comfortable and energy-efficient.
A rebate income qualifying is a good way to compensate for the expenses of windows and doors installation, but you will need to meet their criteria. Let's figure it out.
How Can You Benefit From The Program?
The CleanBC Better Homes Income Qualified Program allows low-income homeowners:
to reduce their energy bills
to enhance home comfort
to improve indoor air quality
to lower greenhouse gas emissions
to receive a rebate for upgrades
What is rebate income according to this program?
It is an opportunity to get back some of the money you spent on retrofits in order to improve the energy efficiency and performance of your house.
Low-income families may obtain rebates that compensate 60-95% of the renovation costs in the house, reaching such values:
Insulation: Up to $5,500
Heat pumps: Up to $9,500
Heat pump water heaters: Up to $3,500
Windows and doors: Up to $9,500
There are additional low-income power rebate options for essential health and safety, ventilation, and electrical panel upgrades.
The good news about this program is that you don't have to bother applying for a low-income rebate – it is the responsibility of the contractor. After the completion of renovations, your contractor submits a rebate application, and they will deduct it from the final cost of the upgrades.
Who Can Receive A Rebate?
You must meet certain requirements to be eligible for a program and receive a low-income energy rebate.
Income Qualification
To participate in any of the income rebate programs, your family must meet the income requirements listed below: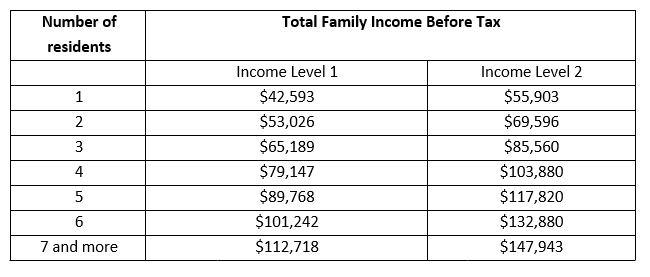 Level 1: If your total income meets the criteria, you may be eligible for up to 95% of the renewal cost.
Level 2: If your total income meets the criteria, you can claim 60% of the cost of the upgrade.
Housing Criteria
To take advantage of the program, the home you will be renovating must comply with the following criteria:
1. It must be your primary residence in British Columbia and be older than one year. The following types of housing are eligible for the program:
single-family dwelling
secondary suite in a single-family dwelling
wheelhouse, permanently stationary, having water, sewer, heating, and electrical networks.
duplex, triplex, or townhouse
NB: Multi-unit and apartment buildings, garages, workshops, newly built homes, and houses determined as "substantially reconstructed" ARE NOT eligible.
2. It must be connected to a residential account with FortisBC, BC Hydro, or a municipal utility.
3. It needs to be heated by (to choose from):
natural gas, propane, or oil
wired electric heating facilities
wood or solid fuel heat system
NB: Your heating system should be able to heat at least 50% of the house throughout the cold season up to 21°C.
Other Requirements
You need to register and verify eligibility with a special eligibility code before installing updates.
Rebatable income cannot exceed the invoiced value plus the upgrade fee paid.
You can only request a rebate once per update.
Utility accounts must be registered in the name of a resident.
The homeowner must fill out a landlord consent form if your home is rented.
Requirements For Windows And Doors
You can get a rebate of up to $9,500, replacing your existing windows and doors with more energy-efficient and functional ones – up to $950 per each. Good news for those who have long planned renovations in the house.
To participate in the CleanBC Better Homes Income Qualified Program, keep the following things in mind.
New windows and doors should be installed in place of existing units in the home envelope between the unheated and heated space.
Installation of skylights is not compensated.
New windows and doors must be registered with one of the certification bodies such as the Canadian Standards Association (CSA), Intertek Canada, etc.
The number of windows and doors for which you can receive a rebate depends on the rough openings (each counts as one window).
A registered contractor must do all upgrades. DIY installation is not suitable for the program.
Your new windows and doors must have a heat transfer coefficient of 1.22 (W/m2-K) or less.
You must provide an Invoice showing the itemized CleanBC rebate deducted from the total price. You will also need to attach a photo of the manufacturer's label from each installed unit.
Rebate Duration
You must complete your home renovation project within 12 months from the date of your email confirming your pre-approval for the program. Application for participation and required accompanying documentation must be submitted after installing the updates within 6 months of the invoice date.
How To Apply For The Rebate?
1. Carefully review the requirements and find out if you and your home are eligible for the program.
2. Consider possible retrofits and conditions for receiving a rebate. If desired, you can consider an EnerGuide home assessment to evaluate how you can best improve your home through the program.
3. Complete the Program Pre-Validation and Pre-Registration to confirm your eligibility through the official portal.
4. Obtain account number(s) from your utility bills.
5. Make sure to have a digital copy of the contractor's invoice and supporting documentation.
6. Upon confirmation, you will receive an eligibility code and a feature report outlining the proposed upgrades.
7. Choose a Contractor to complete renovations.
8. Upon completion of the renovation, the contractor will apply for a rebate and deduct it from the project's final cost.
Can You Apply For CleanBC And Other Rebates Simultaneously?
The good news for British Columbians is that they can take advantage of two programs at the same time: the CleanBC Better Homes Income Qualified Program and the Canada Greener Homes Grant. The CleanBC rebates can be added to Canada Green Homes Grant funding.
Keep in mind that the cumulative rebates should not exceed the cost indicated in the invoice or the paid cost of the renovation project.
More recommendations from us: